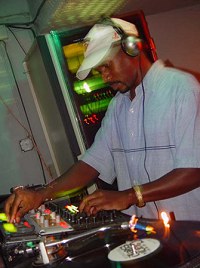 Larry Heard - Mr. Fingers Music Mix 18dec06



1 "Running Away" (LH edit) / BerrEduar Productions
2 "Rhumba" / Jihad Muhammad (movement soul)
3 "Deep Ocean" (LH edit) / Patchworks pres. Mr. Day (still music)
4 "Emotions Electric 2" / A Guy Called Gerald (columbia)
5 "Dubbing In Sunshine" / Rockers Revenge (streetwise)
6 "Beng Beng Beng" (mateo & matos rx) / Femi Kuti (mca)
7 "We Can Change This World" (yoruba rx) / DJ Spinna (papa)
8 "Where Is My Man" / Eartha Kitt (streetwise)
9 "The Music Got Me" / Visual (prelude)
10 "Keep On Reachin" / Shannon Harris feat. Avery Young (urbanicity)
11 "Strange Times" / The Rurals (peng)
12 "Sunshine" / Roland Clark (need 2 soul)
13 "Morris" (q. harris rx) / Bah Samba (bko)
14 "Journey Into A Dream" / DTR (nu groove)
15 "Slices" / Sven Weisemann (liebe detail)
16 "Melodies From The Jazz Republic" / Mike Huckaby (still music)
17 "Come Into My Room" / Norma Jean Bell (pandamonium)
18 "Skrik" / Bangana (heya hifi)
19 "Tarzan" (ame' rx) / Roy Ayers (bbe)

Pequeño homenaje para uno de los "inventores" de todo este tinglado, Larry Heard, aka Mr. Fingers. Pionero en la escena de acidhouse de Chicago a mediados de los 80 y actualmente, una leyenda viva, en la que hoy nos deleita con una finísima sesión deephouse como nos acostumbra,
Proximamente haré un especial suyo con su dilatada biografía, pues es quizá el referente de la música house que actualmente bailamos.

Respect to Larry Heard!